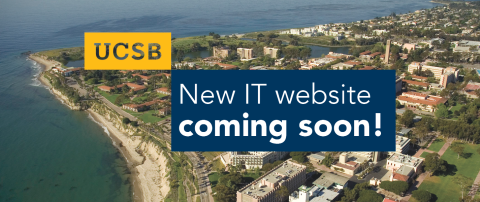 TO: UCSB IT Community
FR: Matthew Hall, Associate Vice Chancellor and Chief Information Officer
RE: New IT Website Launch June 28
I am pleased to announce that, in less than two weeks, we will re-launch it.ucsb.edu, a fresh take on the world of IT at UC Santa Barbara.
Using the UCSB-branded template, we organized and tagged the information and services so that our campus customers - students, faculty, researchers, staff, and more - can easily select and view the information and services most relevant to them.
We've described UCSB's Core IT services so community members can easily find information about and support for various IT services available, regardless of which organization provides them.
We can't wait for you to see it on June 28.
The it.ucsb.edu website launch also means we will shut down and/or transfer different websites as we consolidate them to the new one:
The former it.ucsb.edu will become the new website.
The Information Security site, security.ucsb.edu, will become an alias for the Security section on the new website.
Sites that will go dark on June 28, 2019:
The Enterprise Technology Services (ETS) site (ets.ucsb.edu)
Network Operations Center (NOC) site (noc.ucsb.edu)

noc.ucsb.edu/bb will redirect per Kevin Schmidt, NOC Director. Please, direct questions regarding that page to noc@ucsb.edu.

Office of Information Technology site (oit.ucsb.edu)
Relevant information from these sites will now exist on the new it.ucsb.edu website.
We hope that you take a moment to check out the new website when it goes live on June 28. For any questions or suggestions in the meantime, please contact Communications Analyst Kaitlin Breitag at kbreitag@ucsb.edu.
Thank you!